Amazon, the e-commerce giant on Tuesday, became the second publicly traded US-based company which reached a market cap of $1 trillion surpassing the threshold briefly during trading.
According to Yahoo Finance, Amazon joined Apple in the exclusive club of elite companies which have crossed the $1 trillion mark. Amazon was able to hit the milestone in the morning when its stock rose to $2,050.50 and dropped slightly bringing it back to the $900 billion marks. This milestone is a further feather in the cap of Amazon whose stock value continues to rise steeply reaching an all-time high of $2,000 a share last week.
Amazon's stock market valuation is predicted by experts to surpass that of iPhone maker Apple which earlier reached $1 trillion on August 2.
According to a recent report, Wall Street sees greater potential in Amazon and predicts that Amazon's market cap could reach $2.5 trillion by 2024, powered by both it's retail market share and cloud computing business. It has also been revealed that Amazon has a multi-billion dollar business in the form of advertising.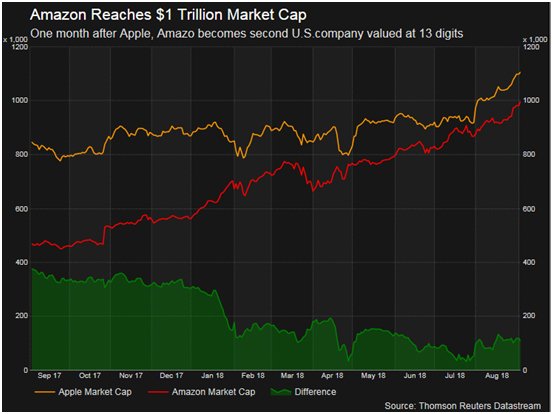 What has impressed investors about Amazon is the diversification into every corner of the retail industry, altering the way consumers shop and has put a lot of pressure on brick and mortar stores. They have a tiny share when it comes to the worldwide retail sales market, so there's a huge segment waiting to be tapped there.
According to experts, Amazon has been more innovative and dynamic than Apple since its cloud business adds the extra growth driver. Apple started trading in the year 1980 however until it's breakthrough device, the iPhone came through, it did not truly start to take flight. It is to be noted that while Apple took 38 years to reach this milestone, Amazon reached there in 21 years. While Apple with its popular iPhone and gadgets has an ever-increasing revenue, Amazon has an unparalleled blistering sales growth.
Analysts expect the revenue of Apple to jump 14.9 percent in its fiscal year which ends in September, according to Thomson Reuters, which still falls short of Amazon's expected 2018 revenue growth of 32%.
Get more stuff like this
Subscribe to our mailing list and get Latest updates
Thank you for subscribing.
Something went wrong.