In today's busy world, parents are mostly entwined in their own professional and personal problems that giving qualitative time to toddlers and children is a rarity. Also, Children are constantly looking for new ways to spend time. This gives added responsibility to parents to actively engage kids every now and then as they are easily bored. To bridge that gap, Hands On as we grow was started by Jamie, a mother herself.
Hands On As We Grow Products
What are Hands on as We Grow?
It is a platform which provides learning opportunities coupled with fun. Some interesting, easy and practical tasks and activities are provided by them to engage a child. One can find activities on the blog or on purchase of specialized activities. They provide customized or properly developed e-books on various children-related engagers like
Crafts based on holidays and seasons
Art projects like painting, tape resist, finger paint and big art
Gross motor activities like newspapers into basketballs, scavenger hunt
Fine motor activities like threading, tracing, writing, play dough
Theme based activities like garden theme, forest theme
What activity plan does Hands on as we grow offer?
DISCOVER: These are activity plans for a one-year-old. These are the simplest of activities using supplies you have. These printable activities and tips on how to do them are the epicenter of these e-books.
PLAY: These are playful activity plans for a toddler. At that time, when craft becomes king. One does not need Pinterest and get upset if it does not turn out that way. These 35 hand-chosen activities will give you a sense of accomplishment as your kid will be busy and not bored.
ENGAGE: These are simple activity plans for a Preschooler. A 3-year-old has more interest and usually starts asking questions. This is when engaging them becomes important. These 35 picked activities will guide one to take charge of a playful kid.
LEARN: These are learning plans for a preschooler that help recognize numbers, letters and eventually learn the alphabet and start reading. This will help them learn early and set them for all knowledge-based activities.
What is the Purpose of these e-books
To develop the cognitive abilities of kids and
To encourage hands-on activity the old school way
They encourage and promote bonding between children and parents.
To provide a meaningful pastime to kids
To develop the sensory instincts of kids
Do the activities serve the purpose?
All activities are created personally and aim to mold a bright future. All the activities on Hands on as We grow are:

Simple: Most activities have prime components that are home-based. One does not specifically have to purchase items. They could be lying in your kitchen or in your room. These daily items are used to do these activities. Also, they are easier for kids to do like mixing water and flour.
Realistic: All activities are realistic and open-ended. This could lead to a lot of interpretations and poses clever questions to children. For example, Stack cups activity can lead to questions on skyscrapers.
Adaptable: All these e-books are adaptable for older or younger siblings. This helps deal with multiple ages and this is commendable if the kid needs more activities. This also helps in memory betterment.
Wide-ranging: There is a variety of activities offered both for children and teachers or parents. Both indoor and outdoor activities are part of the book. Engage Preschool Activity is mostly outdoors and Learn Preschool activities deal with math, literacy, and colors.
Academically focused: These activities help children prepare for school as they become competent and become faster at picking up things. This makes them more interested in learning and boosts their learning curve.
Informative: All activities are informative and help them learn at least one thing. Example; An activity called Explore Pasta will open up so much information for a kid.
Testimonials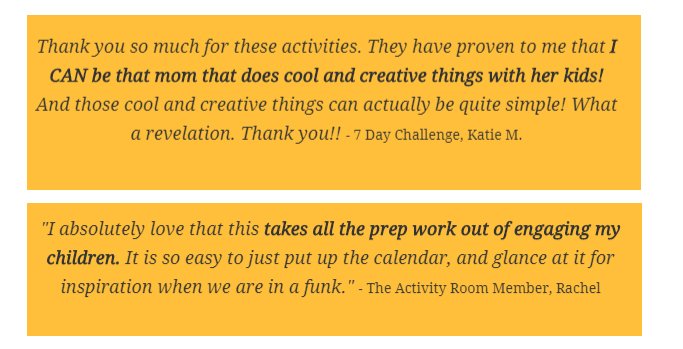 Pricing
The price range varies as per product and plan. The early bundle is a compilation of all the four plans. Generally, the price ranges from $12- $36. However, there are many complimentary ideas one receives that justify the price. They also offer a free 7-day activity challenge to understand their ecosystem.
Delivery and Returns
Since they are e-books, one will receive a link to download them. Even the printables are sent in that format. The e-books are PDF's that one can use easily and navigate through. Samples are also available to those who want to be sure as to what they are buying. If one doesn't like them post-purchase, you can return them with a 14-day money back guarantee. One can also purchase the hard copies or the printed version on Amazon only.
Bottom Line: An Engaging Affair
Hands on as we grow e-books are versatile and help one become a better parent. They make life easier by giving out pre-planned, no hassle activities in your inbox. There are e-books for Toddlers and pre-schoolers. They contain activity planners, ideas list, resources, weekly activity plans, bonus activity plans and DIY ideas for kids. Also, this helps connect with other parents to become part of a community. This is a mecca for engaging your child to do interesting activities and be that fun parent.
Get more stuff like this
Subscribe to our mailing list and get Latest updates
Thank you for subscribing.
Something went wrong.