Smartproxy is a proxy provider that offers high quality rotating residential proxies around the world. Their latest product Smartproxy Chrome Extension has become a must-have for every proxy user.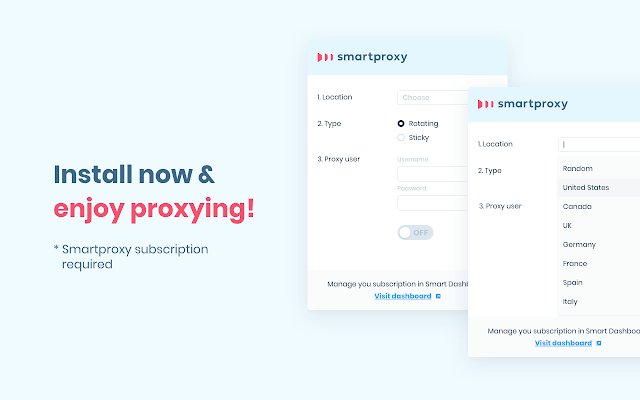 Start Using Smartproxy
The new Smartproxy extension solves several problems, including being reliant on 3-rd party extensions which are not always functioning as they should. Another issue seems to be the inconvenience of going to browser settings every time you want to change the port or turn proxy on/off. The Smartproxy extension helps reduce the number of requests needed to set it up on a browser which makes the whole experience much easier for first-time users.
If you wish to buy Smartproxy at a discounted price, visit our partner site couponx.com for exclusive deals
Smartproxy extension has many great features:
Runs more than 40M+ IPs globally on Smartproxy residential proxy network.
Enables users to access Residential IPs.
IP addresses from 195+ locations, including 8 major cities.
High anonymity proxies – no proxy information in the request header.
Enables users to switch from Rotating and Sticky IPs directly from the Chrome browser.
Accessible from anywhere.
Sticky IPs – extension will use a single IP for up to 10 minutes.
Rotating IPs – extension will switch between multiple IPs in selected locations or randomly.
Enter your proxy user credentials to connect with the extension or use whitelisted IP.
Where you can use Smartproxy: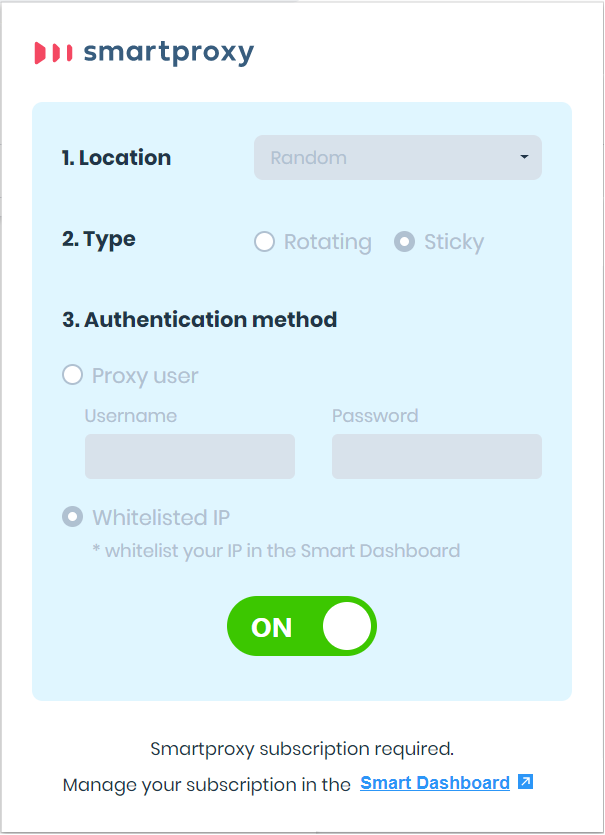 Start Using Smartproxy
Ad verification. Pick any location you want using real desktop and mobile IP addresses and start testing your ad verification quickly and smoothly.
Travel Fare Aggregation. Access any airline website without blocks through real desktop and mobile devices – precisely the type of visitors your targets want to get.
Affiliate Link Testing. Hide your IP to safely check whether your affiliates are doing something suspicious. Unlock localized affiliate link testing with proxies in any country you want.
Scraping. Residential proxies are the best choice for any data mining operation. Every IP in Smartproxy pool is a unique mobile or desktop device, so you can connect to your target data source as many times as you need.
Cooking sneakers. Get your limited edition sneakers with targeted shoe proxies in any location.
Overcome restrictions. Get past any geo-blocks and access localized content.
Secure your identity. Get a new IP for every connection request and hide your real one. Become untraceable with rotating residential proxies.
Smartproxy Extension overview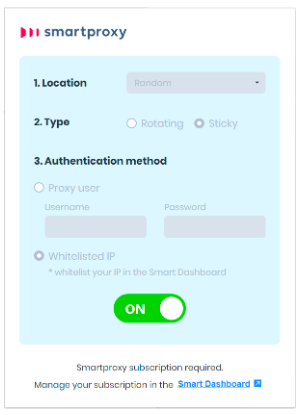 Start Using Smartproxy
Smartproxy Extension is as simple as it gets, which makes it easily understandable for users with no proxy setup experience:
Location
Smartproxy extension allows you to choose from the 195+ location list where you can find any country and 8 major cities: New York, Los Angeles, Chicago, Houston, Miami, London, Berlin, and Moscow. If you're not after a specific location, pick a random one by selecting 'random'.
Type
Smartproxy offers two types of sessions: sticky and rotating. The sticky session can hold the same IP for up to 10 minutes. Rotating session switches between different IPs at your selected location with every new request. You won't run out of IPs because Smartproxy has a pool of more than 10 million IPs associated with real desktop and mobile devices.
Authentication method
There are two ways how you can authenticate your account using Smartproxy extension: Proxy user and whitelisted IP. The proxy user uses the traditional username and password method, while whitelisted IP allows saving selected IPs so you don't need to type your credentials.
Once you finish these 3 steps, you're ready to go and hit 'ON' to turn on Smartproxy extension.
Don't forget that a Smartproxy subscription is required. If you don't have it yet, click on 'Smart Dashboard' and get it with a 15% discount.
Get more stuff like this
Subscribe to our mailing list and get Latest updates
Thank you for subscribing.
Something went wrong.