Yithemes is one of the best e-commerce platforms for WordPress. What makes extremely sought after is the fact that they are the biggest developers of innovative WordPress Plugins and themes for e-commerce, communities, blogs and corporate sites. They claim theirs to be the best selling themes in the world, on their platform YIThemes.
Get Huge Discount on all Themes and Plugins
For those whose philosophy rightly includes – 100% effectiveness, simplicity, and beauty, it can be assumed they would live up to their word! They are also among ThemeForest top sellers and they have so much confidence in their products that they offer free versions of their products to customers.
What does Yithemes offer?
For the best WordPress themes and plugins, look no further than Yithemes.
Plugins for WooCommerce include the following
Administration
Promotions and Marketing
Product Page
Shipping and Logistics
Payment
Customers
Specialised Platforms
Social Network
WooCommerce is also home to some of the best themes including themes for
Apparel & Shoes – Fashion
Beauty & Jewellery
E-Commerce
Food & Restaurant
Hi-Tech & Gaming
Lingerie & Adult
WooCommerce is the best eCommerce platform for WordPress. You can download all Yithemes Plugins and try its features and administration panel. Plugins are also available with a free version so you can use immediately.
What are the features of the Yitheme Plugins?
All their Plugins and themes are top notch and work with the latest version of WordPress.
All themes and plugins are tested on Internet Explorer 9, 10 and 11, and on the latest versions of Safari, Firefox, and Chrome.
Yithemes plugins work on all operating systems as long as WordPress is installed properly.
There is compatibility between all Plugins offered by Yithemes
When you become an affiliate member you get around 30% commissions for every purchase from the link you referenced.
You can use the Yitheme themes on all commercial projects as well.
There's a 30-Day money back guarantee with 100% refund if you are not satisfied with the themes.
Each of their themes includes a .po file which contains all English terms hence users need to edit just that one file to translate the themes to any language of the world.
We had a look at the best selling theme on Yithemes.
YITH WOOCOMMERCE – REQUEST A QUOTE
It allows a hiding price and an 'add to cart' button so that your clients can request a quote on every product page. This plugin comes at a low cost of € 54.99. You can download the free version and also view a live demo. It contains many features like creating direct contact with your potential customers and sends custom quotes as PDF format.
Pricing Details and Payment:
You can start by downloading the free versions and use them right away. In Premium versions, prices for the themes and Plugins vary from as low as € 28 up to € 143. All Payments can be done through Paypal and bank transfer
Join the Yithemes Club
When you join their club you get access to the many features. It's sensible in the long run if you are running a commercial e-commerce site.

Join Now: € 15.000,00 + WORTH OF THEMES AND PLUGINS ON A 97% OFF DISCOUNT!
You get instant access to ALL THEMES and ALL PLUGINS (included future ones!)
30 sites license for all items
unlimited downloads for every product
Regular updates and support
Cancel easily anytime
Monthly Subscription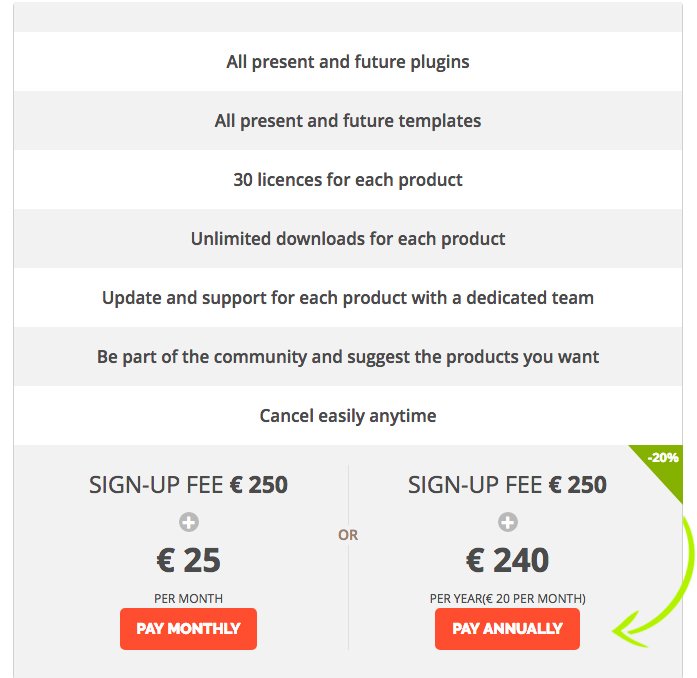 Sign Up Fee € 250 + € 25.99/ month
Yearly Subscription
Sign Up Fee € 250 + € 240/ month
Customer Reviews
4.5/5 stars from customers who have purchased themes and plugins and are extremely satisfied with the customer service. They always look for feedback from their customers to increase the effectiveness of the plugins and automate them as much as possible.
Bottom-line
You can safely go ahead and try Yithemes Plugins and themes for their high-quality and simplicity. Download the free versions and test which ones best suit you before you go ahead with your purchases. To avail the best offers, join the Subscription Club and get these top WooCommerce themes and plugins for a steal-deal!
Get more stuff like this
Subscribe to our mailing list and get Latest updates
Thank you for subscribing.
Something went wrong.