If you are looking to sell on Amazon, and investment of around $1,500 is all that you may need. Beyond this, you can generate passive income by just monitoring sales and continue supplying the product. However, if you are in a dilemma about what to sell on Amazon, it's going to be a different proposition. A good research tool is what you need to validate your idea with facts and figures. That's where Jungle Scout comes into the picture. You can find Amazon products which could earn you the maximum profit in minimum duration, backed by data, of course.
What is Jungle Scout?
Jungle Scout is a great solution to find the best products to sell on Amazon.  The Jungle Scout web app and the extension address different issues in the product research cycle. The web app allows you to scan the product catalogue instantly and the extension helps you get time-bound and accurate metrics on products of your choice. Basically, Jungle Scout helps you get an idea of a niche market on Amazon which could help you earn maximum profits.
What is the difference between the Web App and Chrome Extension?
These are two apps which address different aspects of product research. Chrome Extension helps the users gather data and information about a specific product on Amazon. They can be installed into the Google Chrome Browser, operating inside the Amazon website. Jungle Scout web app helps the users in finding products that are doing well and also tracking the products over time which are already filtered from the Chrome Extension.
What are the Features of the Web app?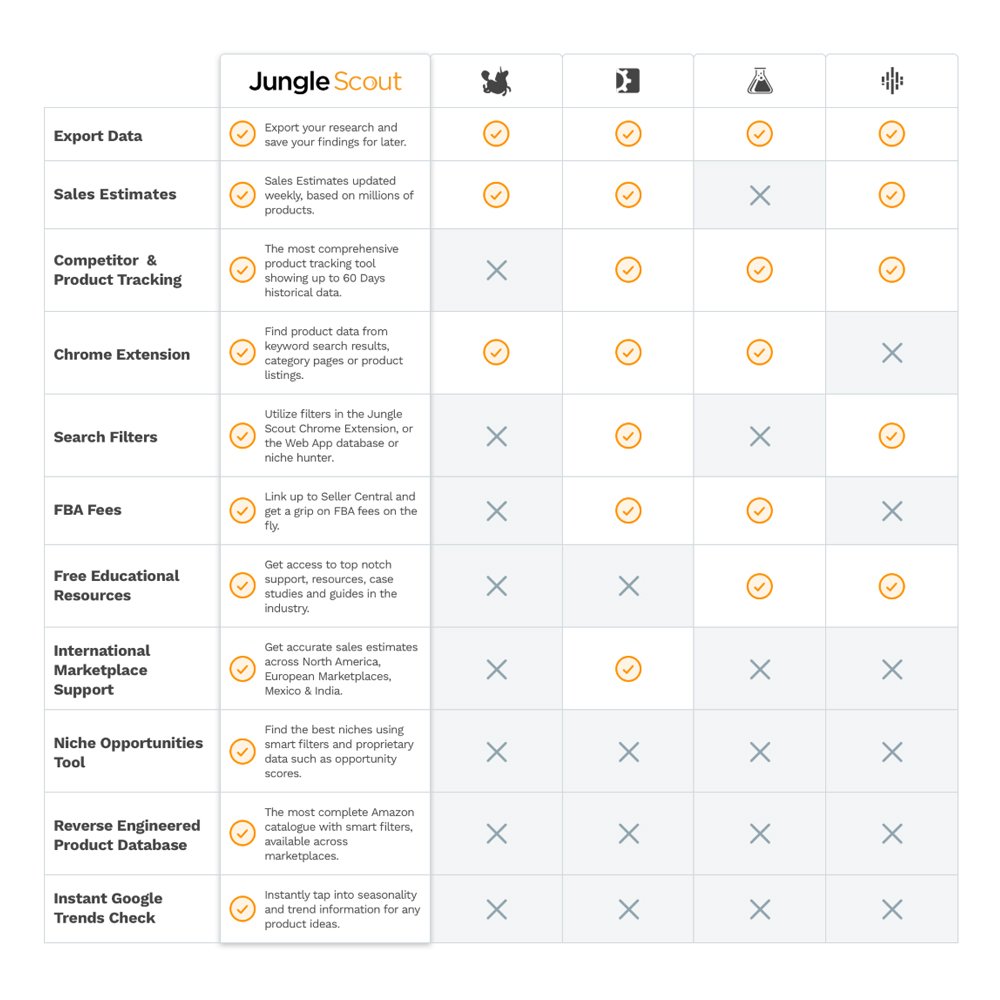 The web app helps you scan Amazon's product catalogue in an instant thereby helping you save considerable time on research.
Here, you can filter products across categories, demand, price, rating and a lot more criteria. The database helps you get a comprehensive listing of products based on your search feature.
You can select the categories to filter on. You may choose not to look for categories like Gourmet or even electronics.
This helps you get specific results as you narrow your search category. Some of the filters include price, net, rank etc.
Helps you display standard sized items, oversized items or both.
For the seller, select fulfilled by Amazon or you can select Amazon, and/or fulfilled by merchant
You can select specific data like pricing, promotional activity, seller ranks etc. for the products you track down from the database and keep track of this data over time.
The Niche Hunter is available in both Standard and Business Plans and is the perfect tool to help you increase the range of your product offerings and discover new revenue streams. It calculates the top 10 Selling Metrics and lists quality scores for any keyword.
Supporting Multiple Marketplaces
You can get the sales data across multiple countries like India, Canada, UK, Spain, India, France, Italy, and Germany.
Looks for keywords, suggested PPC brands and HSA brands
Chrome Extension – Real-Time Amazon Product Fact-Checker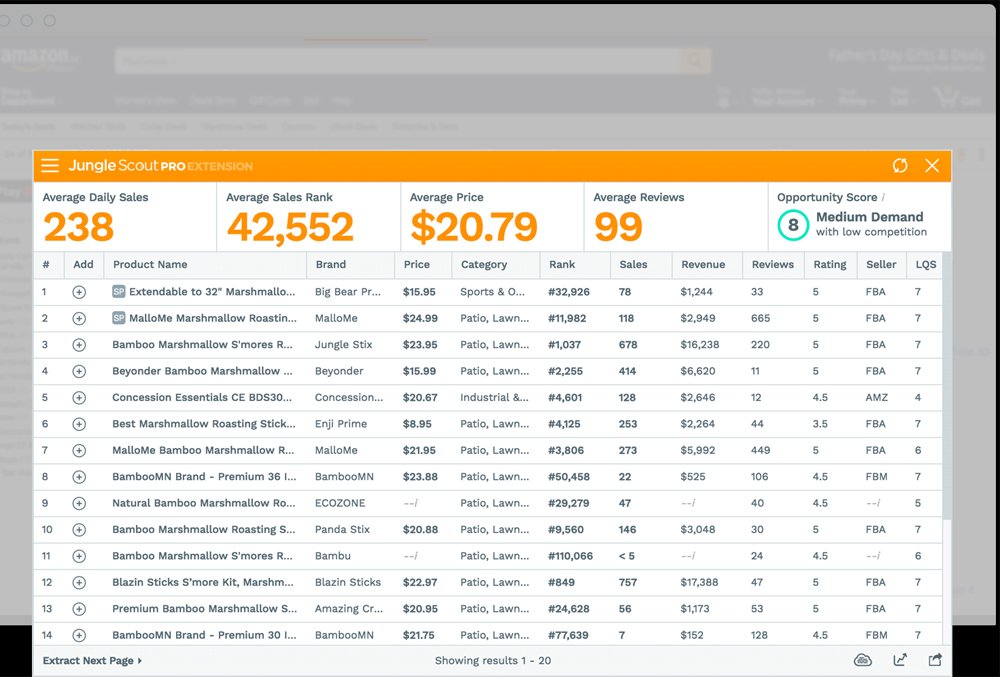 The Chrome Extension has some amazing features as well. It allows you to view product data on the Amazon Search page and access how competitive the product is.
Collects every relevant metric of a product
Get accurate, real-time insights from any page
Filter by the metrics you wish to check out
Here are some Amazing Features of the Chrome Extension
It helps you zero in on products of choice and launch successful products to boost your sales.
You can get country-specific sales details of products across countries like USA, Canada, Mexico, India, France etc.
You can really scale up and get the best information possible and validate the data to minimize risks when you combine the web app and Chrome Extension.
Pricing
There are three pricing options for the web app – Startup, Standard, and Business. Among these Standard appears to be the most popular which offers you the core Jungle Scout which can help track over 80 products.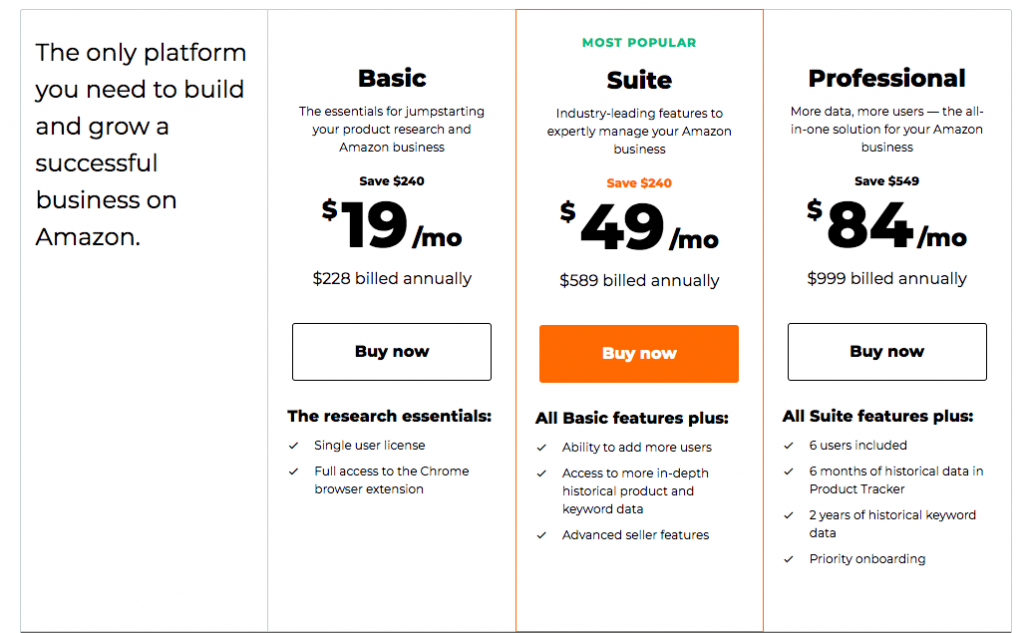 Choose Your Plan
All plans include:
Unlimited database filtering
Competitor Tracking
Accurate Estimated Sales
Low Competition Opportunities
Award-Winning Support
14-day money-back guarantee
Points to Remember
There's no free trial version
The sale estimate isn't always accurate.
The Jungle Scout isn't useful if you are selling used or new books.
Testimonials
The Testimonials written by Customers proves how good Jungle Scout is.

Verdict
Summing up, Jungle Scout is a good tool and the best around if you wish to sell on Amazon.
Get more stuff like this
Subscribe to our mailing list and get Latest updates
Thank you for subscribing.
Something went wrong.