What better way of experiencing a country than moving with the locals. That's what WWoof Australia helps you do. You can become a Wwoofer and joins 1000s of volunteers by helping out at a local farm, with food and accommodation provided.
Join WWOFF
What exactly is Wwoof and who are Wwoofers?
WWOOF is a worldwide movement which helps link volunteers with organic farm owners and growers which help promote cultural and educational experiences. Basically, it is built on trust and the monetary benefits are minimal, but what you gain is the bigger picture which helps build a sustainable global community.
WWOOF actually stands for World Wide Opportunities on Organic Farms and was started in England in the 70s when some volunteers spent a weekend helping an organic farm. This movement slowly grew and today there are over 55 WWOOF groups around the world. The philosophy is simple – Provide food and lodging for volunteers in exchange for 4-6 hours of work every day.
A Wwoofer is a volunteer WWOOF member.
What will you gain when you register as a Volunteer on Wwoofer?
More than monetary benefits, when you register, you basically learn important life skills. You learn all about organic, bio-dynamic farming as well as permaculture methods which are a must for eco-friendly practices.
You learn the importance of sustainability and also produce your own food and live in harmony with your surroundings with self-sustaining practices.
You understand where the food on your plate comes from and how much effort goes into bringing it to you.
Live life with the locals to get an experience f the unique flavors and culture of Australia
If English is your second language, it helps you hone your English conversation skills.
It helps you lead a selfless life and understand co-existence and how we must live in harmony with nature for best results.
How do you become a Wwoof Volunteer?
To join as a volunteer in Wwoof Australia, you just have to follow the leads of 4000+ people before you. You need to connect to host farms through their website or the app. Here are the steps when you wish to volunteer:
Create your profile on their website.
Download our free Mobile App and search for Hosts, or connect with other WWOOFers in Australia.
Once you login, follow hosts and save them online and offline.
Contact hosts through instant Private Messaging as well as discussion forums.
What are the membership plans available on Wwoofer?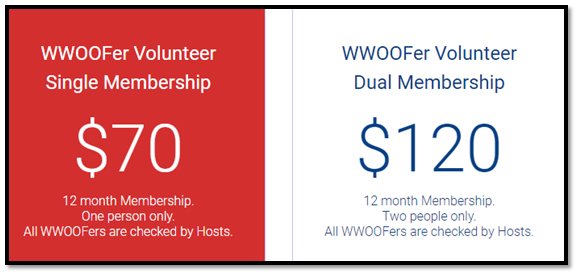 Host profiles are provided with member names, all contact details and description as well as work to be done, accommodation and food.
You get to save money when you sign up with a partner.
You can also join WWOOF by phone – 03-5155-0218
By mail – : Pay by credit card, cheque or money order (payable to WWOOF Pty Ltd) please mail to WWOOF Pty Ltd 2166 Gelantipy Road, W Tree, Vic., 3885
At an agent/sales outlet
Join in 3 Simple Steps

What kind of work do woofers do?
Woofers help with the following
Outdoor Farming
Gardening
All aspects of plant and animal care
Fencing
Farm maintenance
Preserving food
Helping out at markets
Packing produce
Timings: Can be 4-6 hours per day and a maximum of 38 hours per week.
What are the Other Requisites when you Volunteer?
Anybody of any nationality above 18 years of age can volunteer
You need to show your profile to Wwoofer hosts as proof of membership
WWOOFers are responsible for their own travel, accident and medical insurance.
Record details in host Guest-books.
Children and pets are only accepted by arrangement.
Bottom-Line
Wwoofer offers you great chance to help reduce carbon footprints, experience local culture and help learn about sustainability. It provides a great cultural experience and helps you learn more on eco-friendly farming.
Get more stuff like this
Subscribe to our mailing list and get Latest updates
Thank you for subscribing.
Something went wrong.